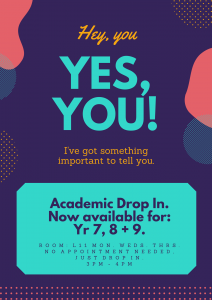 Academic Drop In is now up and running!
Are you a parent or carer who is concerned with your child's progress in school? Are you a pupil who feels you could benefit from extra help and guidance with school work? If so, we are now running Academic Drop In sessions regularly every week, to help support and maintain progress. These sessions will run simultaneously amongst the help given in class.
Perhaps it's a piece of homework that is too challenging to complete, or a concept that can't quiet be grasped, Academic Drop In is ideal for you.
No appointment is needed. You can casually turn up whenever you like and leave when you feel ready.
Give it a go! The sessions are on every:
Monday,
Wednesday
Thursday
3pm - 4pm Room L11
Yrs 7, 8 and 9.