Pastoral at Turton School
Turton School pastoral support aims to equip every child to be ready to learn in their lessons.
A firm approach delivered with empathy, ensures all students can meet our high expectations. This enables all our students to achieve the outcomes they are capable of. The pastoral team of year heads and mentors, is able to meet the diverse needs of all our students, at all stages of their time at Turton.
Here at Turton we want our students to feel supported in every aspect of school life, ensuring they are settled in school and can flourish in their academic studies. Every child is an individual, and pastoral care has a core set of values, in our Hive Switch, complemented by tailored support for each individual student.
The Hive Switch sets a purposeful climate for learning in every classroom, while developing skills like review, meeting deadlines and working individually; all skills needed to excel in public exams at 16 and 18.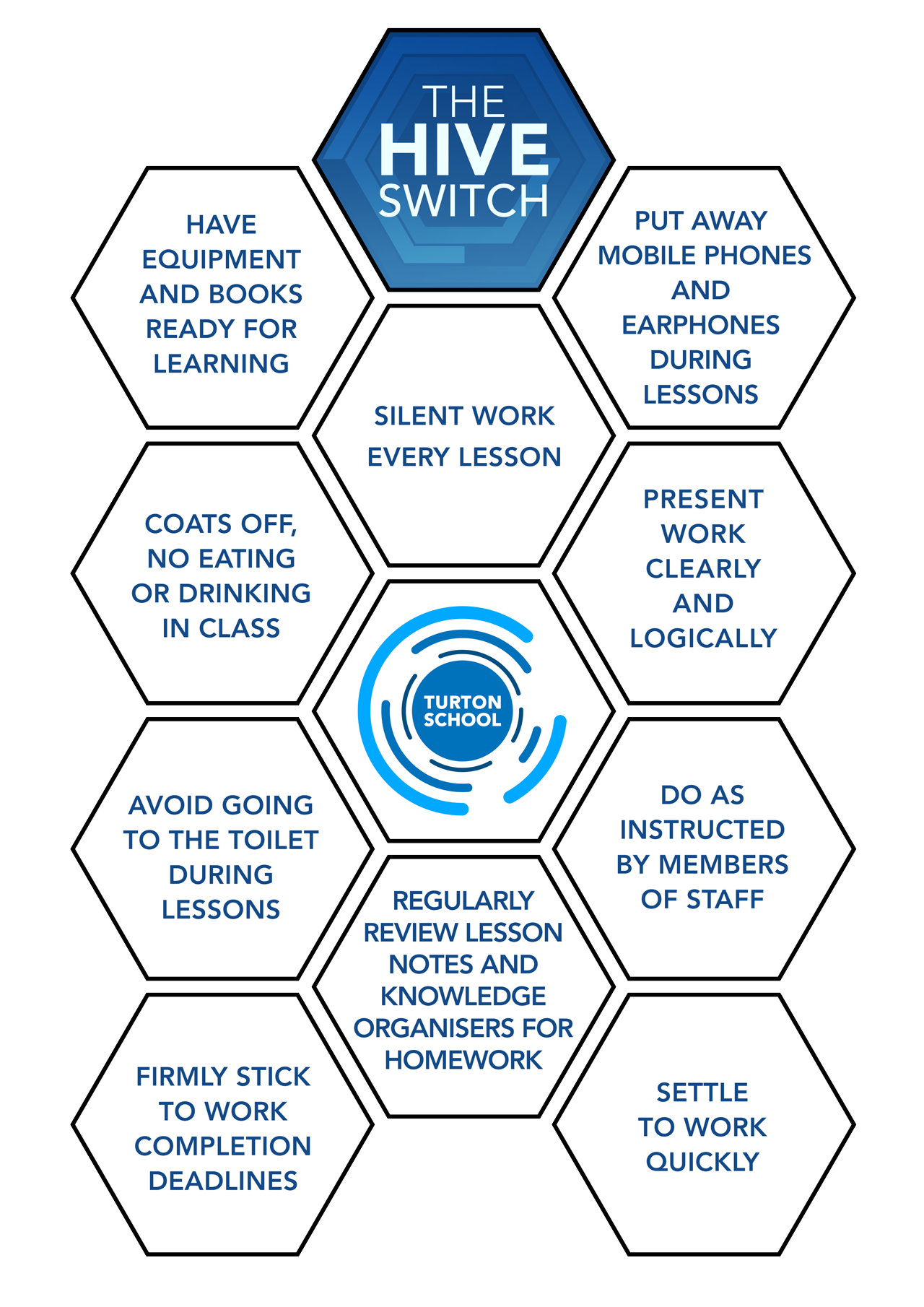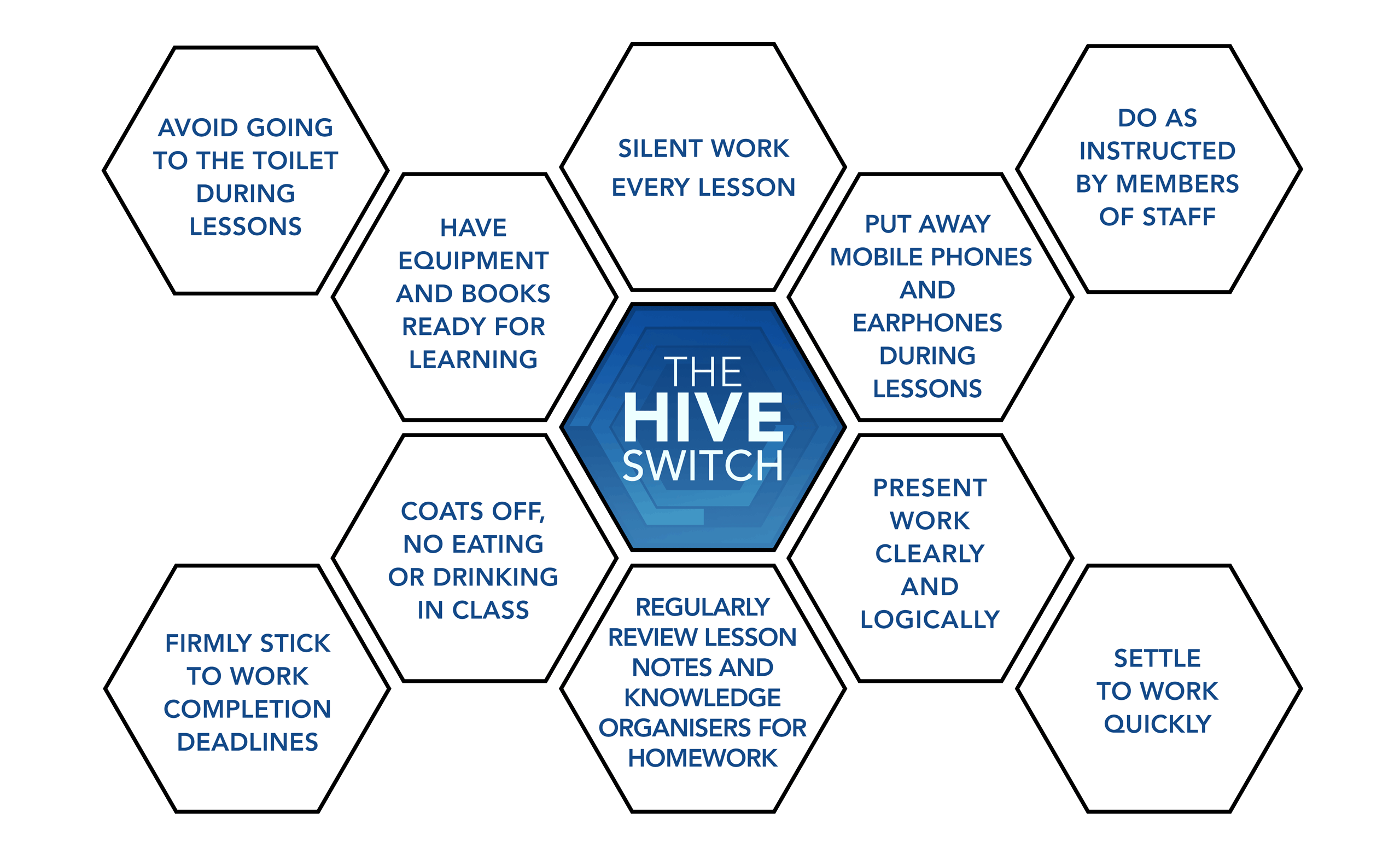 Careers
Turton prides itself on the range of opportunities and the bespoke support of students for all aspects of careers. Close collaboration with the National Collaborative Outreach Programme, sixth form colleges and also local employers ensure that all aspirations are catered for.
Students will receive help and advice via assemblies and form time and also have the opportunity to visit the dedicated careers office for more specialist advice. The regular careers page keeps form tutors, students and parents informed of the latest careers courses, apprenticeships, open days and also gives an insight into the mechanisms of job/ course applications plus a detailed look at select careers in the spotlight.
The journey of students through Turton is considered to be a seven year one, but this is not always possible so there is close liaison with the Bolton Connexions service to ensure that every student has the opportunity for unbiased careers advice for all the key transitions within school, particularly those from year 11 to post GCSE; this support will continue even after the students have left Turton if the need arises.
For any careers information contact Miss B. Allcock (allcockb@turton.uk.com or careers@turton.uk.com). Or our Connexions advisor Caroline Seddon (seddonc@turton.uk.com)
You can also check out our Careers Advice Page for more information.
Bolton Encompass
The purpose of Bolton Encompass is to safeguard and support children and young people who have been involved in or witness to a domestic abuse incident. Domestic abuse impacts on children in a number of ways. Children are at increased risk of physical injury during an incident, either by accident or because they attempt to intervene. Even when not directly injured, children are greatly distressed by witnessing the physical and emotional suffering of a parent.
Encompass has been created to address this situation. It is the implementation of key partnership working between the police and schools. The aim of sharing information with local schools is to allow 'Key Adults' the opportunity of engaging with the child and to provide access to support that allows them to remain in a safe but secure familiar environment.
Following the report of an incident of domestic abuse, by 9.00am on the next school day the school's Key Adult will be informed that the child or young person has been involved in a domestic incident. This knowledge, given to schools through Operation Encompass, allows the provision of immediate early intervention through silent or overt support dependent upon the needs and wishes of the child.
The purpose and procedures in Operation Encompass have been shared with all parents and governors, is detailed as part of the school's Safeguarding Policy and published on our school website.
At Turton School our Key Adults are Cathy Bach bachc@turton.uk.com and Nat Parry parryn@turton.uk.com