Pastoral at Turton School
Turton School pastoral support aims to equip every child to be ready to learn in their lessons.
A firm approach delivered with empathy, ensures all students can meet our high expectations. This enables all our students to achieve the outcomes they are capable of. The pastoral team of year heads and mentors, is able to meet the diverse needs of all our students, at all stages of their time at Turton.
Here at Turton we want our students to feel supported in every aspect of school life, ensuring they are settled in school and can flourish in their academic studies. Every child is an individual, and pastoral care has a core set of values, in our Hive Switch, complemented by tailored support for each individual student.
The Hive Switch sets a purposeful climate for learning in every classroom, while developing skills like review, meeting deadlines and working individually; all skills needed to excel in public exams at 16 and 18.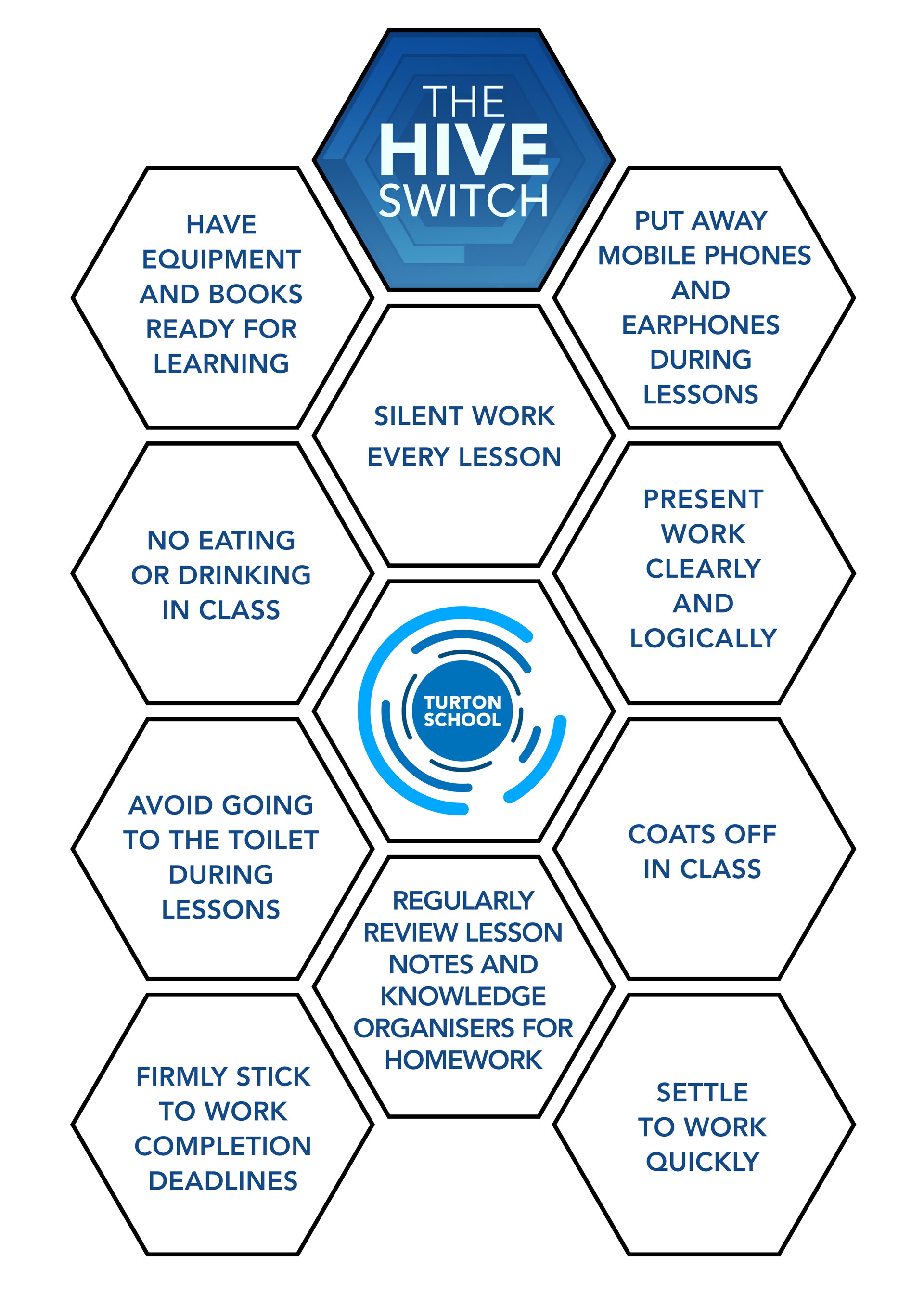 Year 7
At Turton pupils fit in very quickly with the help of older students, staff and Year 10 mentors. After an effective transition process, pupils learn to manage a very different school experience where they work on skills of organisation and resilience as they juggle a 25+ period a week timetable. In their first term they begin to make new friends for life, learn about new subjects and settle into a routine. This can be quite a challenging time for some, however they receive support and guidance from the pastoral team.
In form time, we introduce them to Accelerated Reader which promotes reading for pleasure. We also work on their maths skills through the Numeracy Ninjas scheme. Form is a structured time where students have a calm start to the day and we ensure they are ready to learn. Homework is vital to ensure that the grammar (key knowledge) students come across in the classroom becomes embedded. Homework is set by all subjects once per week in order to encourage this learning and review outside of the classroom. Each student has a personalised homework timetable so that they can organise their time effectively.
Team building opportunities are planned throughout the year to support pupils' new friendships and develop confidence. There are trips in Faith and Ethics, English, Geography and Languages also provide a wealth of experiences for our pupils. They are encouraged to get involved in extra-curricular clubs in Music, PE and the creative arts and embrace new experiences such as getting involved in the school production.
If you have any queries about your child in Year 7, their form teacher is the first point of contact. Form teachers have regular contact with parents of students in their form.
Mr M Sykes
Head of Year 7
Year 8
What can you expect for your child at Turton in Year 8?
Year 8 is an exciting time in your child's education here at Turton. They will no longer have the pressure of being the newest pupils in the school; they will have developed a sense of belonging, as well as a clear idea of how to make progress academically within each of their subjects. At this point, there are also many opportunities to become a positive role model to the younger, year 7 pupils and to start take pro-active steps towards preparing for starting GCSE work in the coming years.
During year 8, pupils will now have the opportunity to have a say in what they are studying by selecting 'mini options' – a chance to trial potential GCSE subjects ahead of final Pathways Choices next year.
From a Pastoral perspective, year 8 is a good time for us to work with pupils to help them to develop and maintain healthy friendships and to educate and support pupils around how to be responsible on social media. These topics will be the focus of conversations with pastoral staff and group tutors, as well as key topics in assemblies over the year.
Mrs L Smith
Head of Year 8
Year 9
Year 9 takes the importance of Grammar that has been embedded in year 7 and 8 and giving pupils the skills to use the dialectic and rhetoric into KS4. Students begin on their chosen mini options cycle in order to get a taste of GCSE subjects before following a GCSE options pathway.
Through the use of assemblies and form time a wide range of themes will be discussed from healthy eating and sleep hygiene to careers. They will be faced with opportunities that will help them explore different ways of learning and revising to work upon their resilience before embarking on their GCSE's.
We hope throughout the duration of the year, the group tutors, mentors and home will support the pupils to model the behaviours and values that we follow at Turton in order to become role models to the younger (and older) years.
Miss J Brown
Head of Year 9
Year 10
Year 10 is a pivotal point in your child's school career, the transition from Key Stage 3 to Key Stage 4 being the most obvious. Pupils are now well established within school and have built friendships and positive relationships with peers and staff alike. The next two years are about working as a team towards being the best they possibly can be – both academically but also as a well- rounded and caring individual.
Assemblies will look at various themes in order to develop resilience and confidence and having a healthy attitude towards learning. When the 'going gets tough', as it inevitably will do in this year, there are mentors and support staff with a wealth of experience who can work with your child. We offer careers advice, KS5 Taster Days in the Sixth form. The team offer advice and guidance on revision techniques, managing stress and catch up sessions to ensure students stay on track. Reviewing work is a priority this year as pupils must lay the foundations now that they will need to be successful in their forthcoming GCSE examinations.
Pupils will also be expected in Year 10 to model the behaviours and values they would expect to see in the younger years. They are now young adults, who are working towards becoming prefects and other positions of responsibility.
In all of this, communication between home, pupils and staff is key. Please do not hesitate to get in touch no matter your concern.
Mrs R Wright
Head of Year 10
Year 11
Your child's final year is about demonstrating five years of learning academically, emotionally and socially. Our team is here to help your young adults to develop traits such as resilience, a sense of purpose, empathy and promoting themselves positively within ours and the wider community.
We will provide Year 11 with a purposeful environment that allows them to develop as characters, learn effectively, take educated risks and develop the skills necessary for a successful future. The team offer advice and guidance on revision techniques and managing stress as well as catch up sessions to ensure students stay on track.
We will also assist with their preparations for exams and their future careers with a team that is knowledgeable and caring and prepared to go the extra mile for our pupils. All we ask is that the year group work with us to give themselves the best opportunity for their future.
As the senior year group, pupils have the added pressure of modelling positive behaviours for our younger pupils. This responsibility provides them with a glimpse of the expectations required in their working lives. Our Staff aim to help our pupils to succeed by modelling the virtues that are expressed within the Turton Touchstones. Pastoral Leaders and group tutors will monitor pupils closely and provide intervention where necessary. At the end of five years of hard work we will celebrate our successes with a range of activities, including the year 11 Prom.
If you have anything you wish to discuss, please get in touch.
Mr D McElroy
Year 11 Pastoral Leader
Advice and Support
Turton prides itself on the range of opportunities and the bespoke support of students for all aspects of careers. Close collaboration with the National Collaborative Outreach Programme, sixth form colleges and also local employers ensure that all aspirations are catered for.
Students will receive help and advice via assemblies and form time and also have the opportunity to visit the dedicated careers office for more specialist advice. The regular careers bulletin (Turton Trail) keeps form tutors, students and parents informed of the latest careers courses, apprenticeships, open days and also gives an insight into the mechanisms of job/ course applications plus a detailed look at select careers in the spotlight.
The journey of students through Turton is considered to be a seven year one, but this is not always possible so there is close liaison with the Bolton Connexions service to ensure that every student has the opportunity for unbiased careers advice for all the key transitions within school, particularly those from year 11 to post GCSE; this support will continue even after the students have left Turton if the need arises.
For any careers information contact Mr. Jason Bach (bachj@turton.uk.com or careers@turton.uk.com)
Or our Connexions advisor Caroline Seddon (seddonc@turton.uk.com)
Bolton Encompass
Bolton Encompass
The purpose of Bolton Encompass is to safeguard and support children and young people who have been involved in or witness to a domestic abuse incident. Domestic abuse impacts on children in a number of ways. Children are at increased risk of physical injury during an incident, either by accident or because they attempt to intervene. Even when not directly injured, children are greatly distressed by witnessing the physical and emotional suffering of a parent.
Encompass has been created to address this situation. It is the implementation of key partnership working between the police and schools. The aim of sharing information with local schools is to allow 'Key Adults' the opportunity of engaging with the child and to provide access to support that allows them to remain in a safe but secure familiar environment. 
Following the report of an incident of domestic abuse, by 9.00am on the next school day the school's Key Adult will be informed that the child or young person has been involved in a domestic incident. This knowledge, given to schools through Operation Encompass, allows the provision of immediate early intervention through silent or overt support dependent upon the needs and wishes of the child.
The purpose and procedures in Operation Encompass have been shared with all parents and governors, is detailed as part of the school's Safeguarding Policy and published on our school website.
At Turton School our Key Adults are Cathy Bach bachc@turton.uk.com and Nat Parry parryn@turton.uk.com