Turton 1 – Westhoughton 0
It certainly wasn't one for the purists, as the Year 10's dug out a Championship win in awful weather at Bolton School, earning their first piece of silverware as a year group.
The game couldn't have started more favourably, as in the fourth minute, a through ball by A. Flitcroft gathered pace in the wind, leading to a calamitous error by the opposition goalkeeper. The ball skipped through his legs and somehow found its way to the back of the net.
This provided a solid platform to build on, but we were unable to capitalise (despite having the wind behind us) as the conditions wreaked havoc and spoiled play. Wright, the hat-trick hero from the semi final, was as industrious as ever upfront and kept Westhoughton on the back foot throughout the half.
The second half was a brutal battle and we were penned in by a wind that was seemingly gathering more force throughout the game. Holding marshalled his defensive team with great bravery and when the line was eventually breached, Holt was at hand to produce championship winning saves on more than one occasion. Wright scuppered the chance to seal the victory with our one real chance in the second half, as the ball just refused to sit kindly as he powered through on goal.
The boys gave their absolute all and when the final whistle eventually came, it was greeted as much with relief as celebration.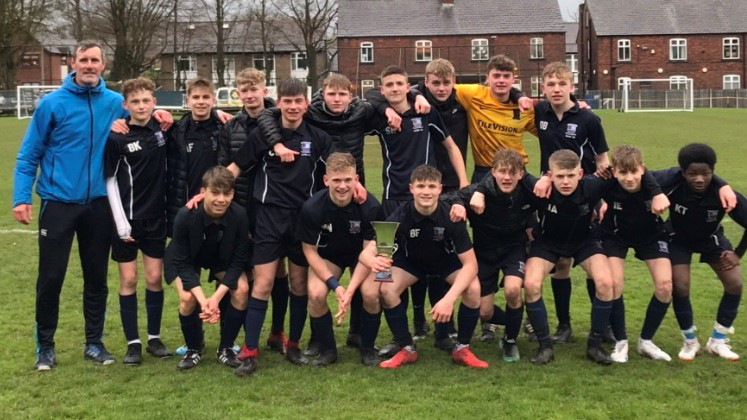 It will be a season perhaps better remembered for our giant slaying route to the final, defeating Canon Slade and reigning champions Rivington. The semi final 4-0 victory against Rivington was the major highlight. The team produced an incredible performance that night and but for the post and a thoroughly impressive opposition goalkeeper, it could have very well been seven or eight. The final in contrast proving, there are many ways to win a football match. Captain, B. Flitcroft already has his eyes on next season and is hell-bent on retaining the title with back-to-back trophies.
Mr. McEllroy