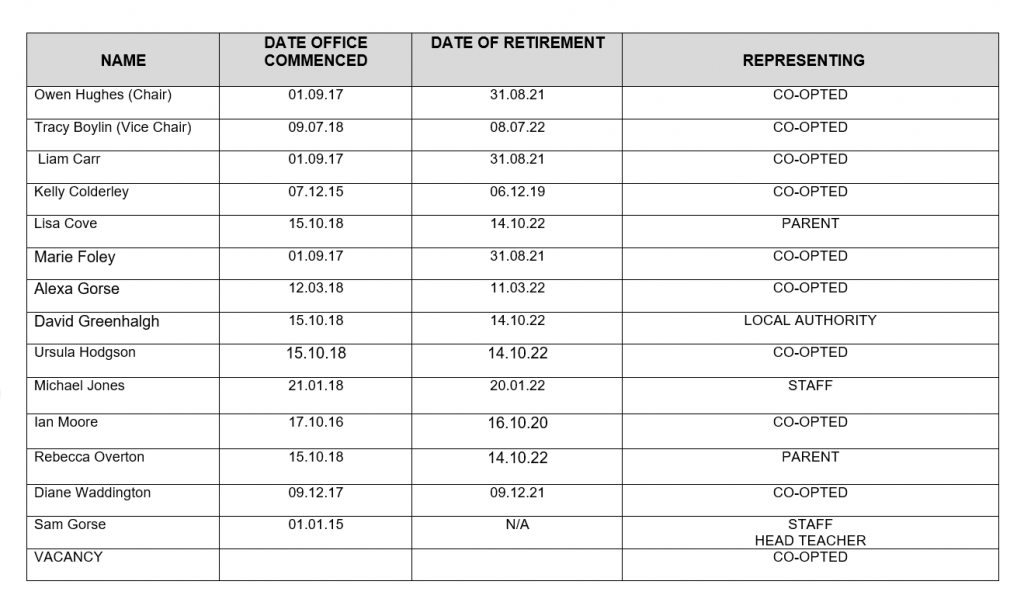 Turton School Governing Board
Owen Hughes, Chair - Co-opted Governor
Owen is our longest serving Governor and has been a governor at the school for over 30 years. Owen attended Schools in Preston and worked in Bolton for the majority of his working life. He has previously been Chair of Governors and has a Certificate in Education Management. He has lived locally for over 35 years and is often seen around the school doing walkabouts.
Owen played football and cricket at a high level in The West Lancashire League, Blackpool Palace Shield, and locally in the Bolton League.
Owen sits on the Teaching Learning and Curriculum, Resources, Pupil Development, Wellbeing and Safeguarding, Pupil Discipline, and Performance Management Sub-Committees. He is also the governor for Inclusion, Child Protection & Safeguarding, and for Partnership.
Owen is passionate about the school, supporting the school to provide a very high standard of education focused on continual improvement for all and ensuring our students leave as polite, well rounded, highly employable individuals. He is fully committed to the Turton Trivium Triad teaching method.
Owen has no business interests to declare. His current term of office expires on 31.08.21.
­­­­­
Tracy Boylin, Vice Chair - Parent Governor
Tracy has been a Parent Governor at Turton School since November 2010 and is currently Vice Chair.
Tracy's background has been working as an HR Director for over 20 years in a number of sectors including Education. It is these skills she specifically hopes to use to support the school.
Tracy sits on the Resources and Pupil Development, Wellbeing and Safeguarding Sub Committees. She holds a further voluntary role with a Charity called Patients First, which focuses on ensuring patient safety in our NHS. As a result, she often gets invited to speak at conferences on patient safety topics and bringing better reform into the NHS, to improve its patient safety matters.
Tracy has two children who have been students in the school and both went on to study in Turton Sixth Form before going on to university.
Tracy has no business interests to declare. Her current term of office expires on 08.07.22.
Liam Carr - Co-opted Governor
Liam has been a teacher at Turton School since 2005 and a governor since 2009. He is the current Head of Department for PE.
Liam sits on the Teaching, Learning and Curriculum Sub-Committee. Liam became a governor because he has a keen interest in the ethos of the school, which gives the best possible education and well-being to all our students. The caring nature of the school coupled with the high academic standards is something he feels passionately about. Liam has lived in the local area all his life and he has family who attend the school. Liam says the roles provide him with a platform to further develop the department he works in and he feels that this benefits the results in PE. He feels the support the school provides is fantastic and assists the PE department in delivering an extensive extra-curricular programme within which the school excels, with regard to offering opportunity for all and sporting success in the borough.
Liam has no business interests to declare. His current term of office expires on 31.08.21.
Kelly Colderley – Co-opted Governor
Kelly joined us as a Co-opted Governor in December 2015. She works in the kitchen and has three children at the school.
Kelly currently sits on the Pupil Development, Wellbeing and Safeguarding Sub-Committee.
Kelly has no business interests to declare. Her current term of office expires on 06.12.19.
Lisa Cove – Parent Governor
Lisa is a Parent Governor who has two children at Turton. She is impressed by the school's ethos and the academic and pastoral support given to its students, and is honoured to be part of the Turton School community and to represent the Parent Voice. She currently sits on the Teaching, Learning and Curriculum Sub-committee.
Lisa has worked in both Further and Higher Education and has a doctorate (DBA) in Academic Leadership. She currently holds senior Quality role at a local University, but continues to teach, delivering Leadership modules in Vietnam and Botswana.
Lisa has no business interest to declare. Her current term of office expires on 14.10.22.
Marie Foley - Co-opted Governor
Marie has served on the Governing Board since December 2012.
Marie chairs the Teaching, Learning and Curriculum Sub-Committee. Having worked in School's HR as the School's Learning and Development Officer, during which time she gained an MSC in Strategic HR Management, she feels her experience is of value. More recently having worked within Education as the Governor Training Officer and as Leading Governance Consultant for the NGA, Marie feels she has a lot to contribute to the Teaching, Learning and Curriculum Sub-Committee.
Marie says her three children have all received an excellent, all rounded education, at Turton, making her proud to be a Co-opted governor here. Having worked for the Education Authority for many years she felt it was important to give something back to the school that had offered her children so much and fully prepared them for their future paths.
Marie declares her business interest as Local Authority Governor training. Her current term of office expires on 31.08.21.
Alexa Gorse –Co-opted Governor
Alexa is a Co-opted governor and currently sits on the Pupil Development, Wellbeing and Safeguarding Committee. She has been a governor previously and sat on the Personnel Committee, now the Resources Committee. She was invited, by her sister and current Head Teacher, Sam Gorse, to join the governing board due to her legal background as a solicitor, in order to add another string to the bow of the board's mixed set of skills and interests.
Alexa was particularly drawn to Turton School because she felt an affinity with the Turton Touchstones. She shares the belief that education should, in addition to providing a good foundation in academic learning, provide students with life skills that will help them to evolve into intelligent and well-rounded adults; skills such as relatedness to others, in order to form future communities that will show compassion and empathy to people different from themselves, which will afford them a better understanding of the world and open up opportunities in new and exciting ways; a sense of belonging, because "no man is an island" (John Donne) and belonging leads to a sense of responsibility to those who may be affected by their actions; creativity and imagination, because without it we would not have the Dyson vacuum and the next generation will not benefit from trying out new ideas and looking at things in new ways; self-awareness, being the key to an ability to grow and adapt to change in healthy ways and finally seeing the good in others. The Turton Touchstones perfectly represent what Alexa hopes will be the collective personality of the next generation.
Alexa has no business interest to declare. Her current term of office expires on the 11.03.22.
David Greenhalgh - Co-opted Governor
David has been a Governor at Turton since 2011. He currently sits on Teaching, Learning and Curriculum Committee and the Board of Turton School Sports Association. David lives in the area, and also represents Bromley Cross Ward as a local councillor on Bolton MBC. A self-employed businessman, David's main interests are theatre, cinema and sport.
David declares "Granny's Attic" Antiques as his business interest. His current term of office expires 14.10.22.
Ursula Hodgson – Co-opted Governor
Ursula worked at Turton School for 17 years, recently taking early retirement. She has worked in the Learning support and English departments as well as working her way up to Deputy Head Teacher in the Pastoral team.
She understands the demands on staff, pupils and parents during the secondary school experience as well as the importance of achieving and the impact that has on wellbeing. Ursula sits on the Teaching and Learning Committee.
She continues to look for new challenges outside of education but being a governor will allow her to use her knowledge to support the school after retirement.
Ursula has no business interests to declare. Her current term of office expires on 14.10.22.
Michael Jones - Staff Governor
Mike arrived at Turton School in 1987 and loved it so much that he stayed! In the early years he taught a fair amount of IT but it wasn't too long before he was teaching a full timetable of Mathematics. For most of his time here he has also been the NUT staff representative. It seemed like a natural next step, to become a Staff Governor.
Mikes motives were to ensure that the Governors were able to access a clear staff perspective on issues and to promote the positive contribution made by teachers to the school. Because of his extensive experience as a school representative, Mike decided that he could best serve the Governors on the Resources Sub-Committee.
Mike has no business interests to declare. His current term of office expires on 20.01.22.
Ian Moore – Co-opted Governor
Ian joined the Governing Board at Turton School in October 2016 and currently chairs the Resources Sub-Committee He has been a Governor at Harwood Meadows since 2008 and is currently the Chair of Governors there too.
Ian was a pupil at Turton himself and has very fond memories of the school.
As a profession, Ian is dedicated to helping businesses understand and find finance, which he is happy to be able to bring to Turton. Ian hopes he can have a positive impact on the school for all pupils and teachers.
Ian has three children, two of whom are currently at Turton.
Ian has business interests in Independent Business Finance Company Ltd, Compare Invoice Finance Ltd and Express Loans 4 Business Ltd. His current term of office expires on 16.10.20.
Rebecca Overton – Parent Governor
Rebecca joined in 2018 as parent governor and has two children at very different stages at the school. She currently sits on the Resources Sub-Committee.
Rebecca has worked in local government for over 15 years, specialising in culture, arts and museums. She will bring this experience and knowledge to the role, together with her understanding and knowledge of the public sector and wider cultural and heritage sectors. Her experience in making strategic financial decisions enables her to contribute effectively to the Resources Committee.
Rebecca has no business interests to declare. Her current term of office expires on 14.10.22.
Diane Waddington - Co-opted Governor
Diane has been a governor since December 2013. She currently chairs the Pupil Development, Wellbeing and Safeguarding Sub-Committee and sits on the Teaching, Learning and Curriculum Sub-Committee.
Diane has two children a daughter and a son who have both gone through the school.
Diane is very proud to be a Governor at Turton and feels the school has fantastic pastoral care and high standards of academic success at GCSE and A level.
Diane was Chair of Turton Parents' Association and has been part of the Parents' Association for many years.
For 10 years, Diane has worked as an Adult Learning Teacher delivering Family Learning and Functional English to residents of the City of Salford.
Diane has no business interests to declare. Her current term of office expires on 09.12.21.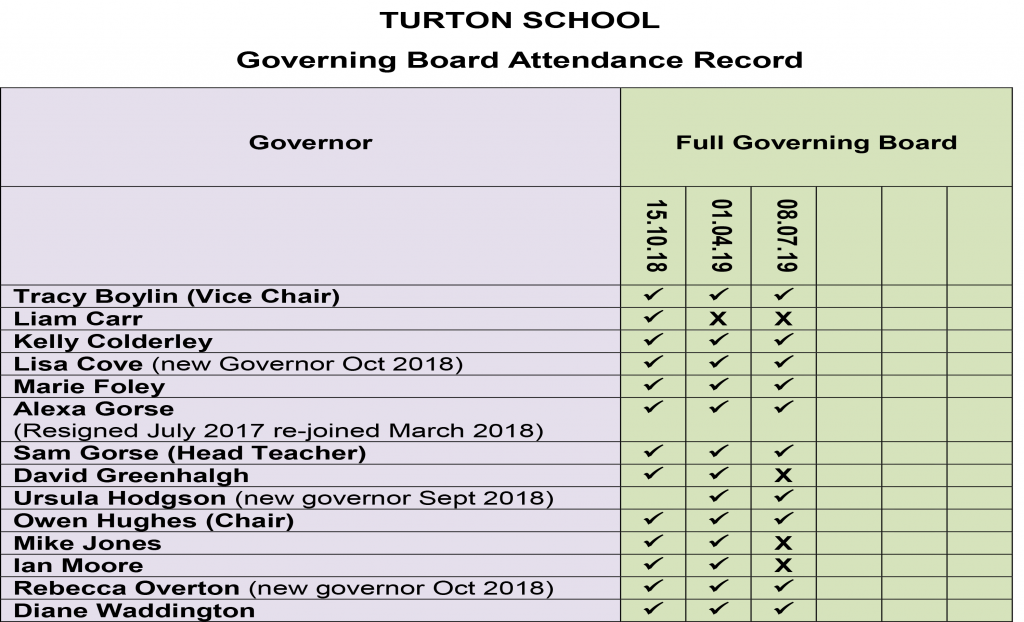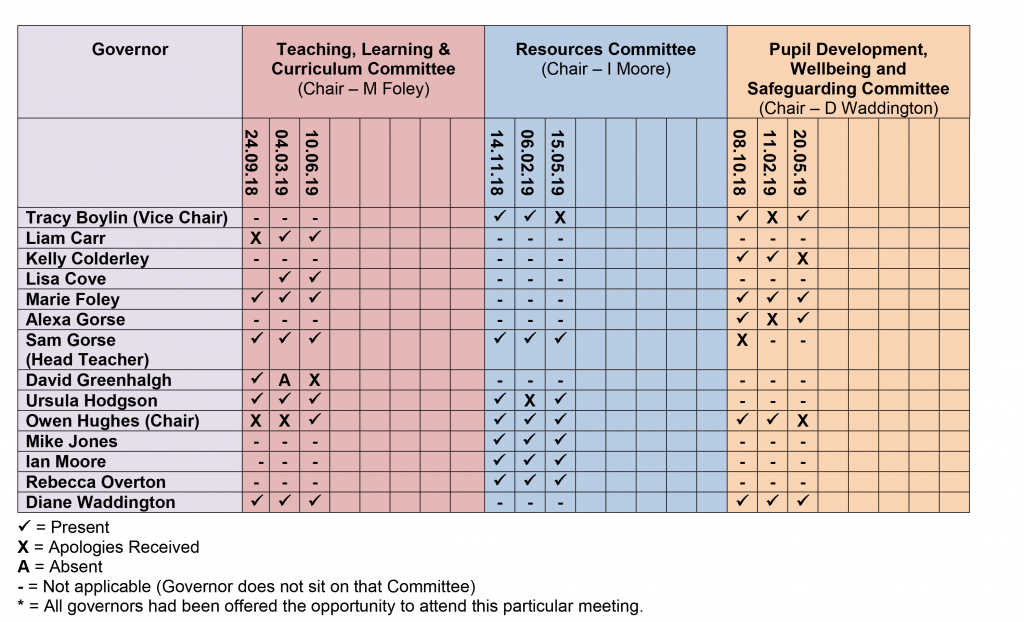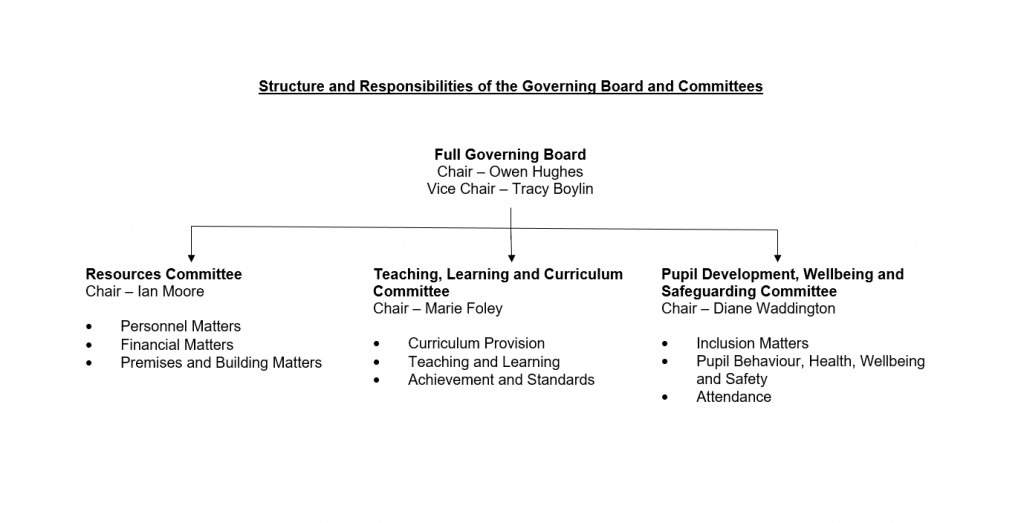 Learning Walk – 28 January 2019
Governors attending:
Owen Hughes
Marie Foley
Ian Moore
We took part in learning walks accompanied by members of the Senior Leadership Team, visiting Geography, English and History lessons. It was pleasing to discover that Geography was improving, benefitting from strong departmental leadership. The pupils in the Geography lesson we observed were engaged and the teacher encouraged everyone, including quieter pupils, to become involved in discussions. The displays in the classroom supported the subject and provoked interest. In the History lesson we observed there were two Teaching Assistants who provided targeted support to certain children, including one child who had an EHCP in place.
The learning walks were enjoyable, all the classrooms visited were well lit and most had displays on the wall. In all instances the pupils had the correct equipment on their desks. During one lesson there was a discussion on the importance of reading a book before coming to the lesson, one student had not done so, and the teacher quietly dealt with the matter. Interaction with all students was evident and they seemed to enjoy the lesson. Work books were used and examined, and some of the presentation was good but some handwriting was poor, especially some boys handwriting.
Overall the Chair of Governors was extremely satisfied with what he saw, and it was consistent with what he had seen in the past. The comments about handwriting and presentation had previously been drawn to the attention of the SLT and have now been included in the hive switch so the matter can be addressed. The behavior of the pupils both in lessons and in the corridor was exemplary.